Depression affects more than your loved one's state of mind–it can also affect their physical well-being as well as the people who surround and support them. Unfortunately, depression can be more common in the elderly, especially if they struggle with illness or have experienced a recent loss. However, this is not a normal part of aging.
Because depression can become a serious concern over time, we want to take a moment to explore what depression is, how it can develop, and what you and your loved one can do to help prevent it. By knowing how depression occurs and having strategies ready to manage it, you can help your loved one preserve their positive outlook and, ultimately, their quality of life.
But you don't have to do it alone. If you think your loved one could benefit from the services we offer, please don't hesitate to contact us today. We'll be happy to craft a senior living experience that suits your loved one's unique needs.
How Depression Affects Your Loved One
Depression is a mood disorder that affects how people act, think, and feel. Serious emotional events like illness, injury, and loss can trigger depression or depressive episodes, but it shouldn't be considered a normal part of aging. Even though it's more common to experience depression as you grow older, this does not mean it's a healthy process.
Eventually, the negative outlook depression causes can lead to health concerns and a decreased quality of life. Thankfully there are a variety of ways to treat and manage depression, but it's important to notice the symptoms and signs as early as possible to help prevent it from seriously affecting your loved one's life.
Symptoms
Some of the most common symptoms include:
Anxiety
Feelings of hopelessness and guilt
Decreased motivation
Increased fatigue
Concentration problems
Slow movement or speech
Sleep problems, like lack of sleep or oversleeping
Eating concerns
Thoughts of suicide or death
Risk Factors
Depression can occur for a variety of reasons, but some of the most common risk factors include:
Illness
Injury
Loss of a loved one
Social isolation
Lack of exercise
Addiction or substance abuse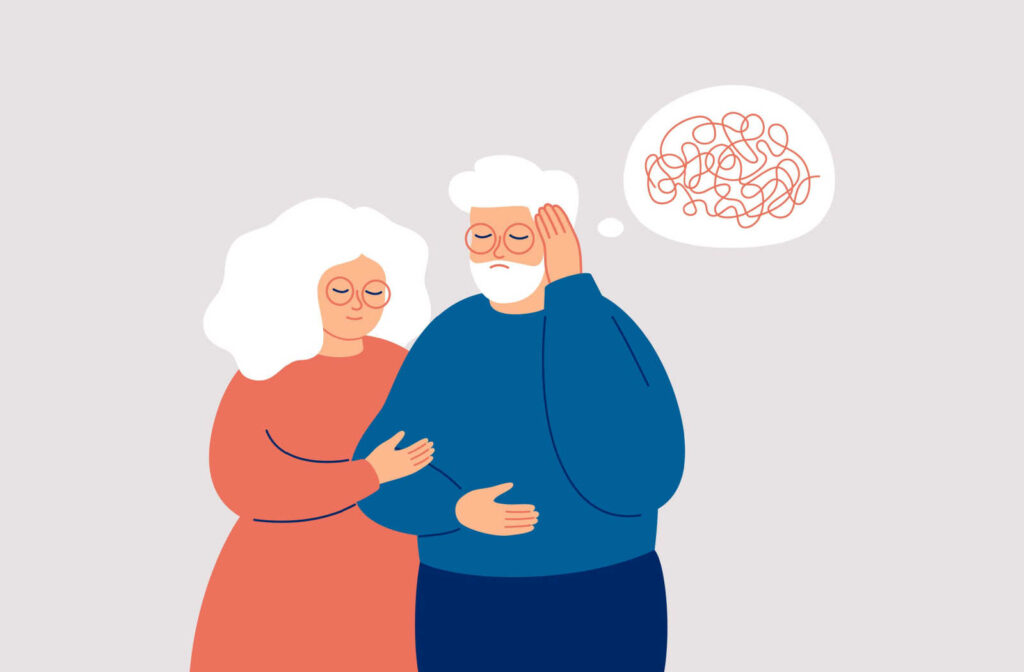 Lifestyle Changes that Help Manage Depression
Depression may be more common in older adults, but there are a few different ways you can help your loved one manage their depression and prevent it from seriously affecting their quality of life.
Some of the most effective measures include regular exercise, finding a hobby or craft to pursue, or simply staying in touch with friends and family members.
Keep Active
When it comes to your elderly loved one, even simple exercises can mean a world of difference to their overall outlook on life. Some physical activities can include:
Walking
Exercise groups
Recreational games
Active living can help maintain your loved one's independence and encourage a restful night's sleep.
Find Hobbies & Passions
Progress and accomplishment are essential to maintaining a healthy, happy mindset, and hobbies are a great way to feel like you're constantly moving forward. Hobbies can be physical, like joining a rec team, or they can be personal, like arts and crafts.
What's important is to find something that helps your loved one feel like they're improving themselves and the people around them.
Stay In Touch
Connection is vital to a healthy quality of life, so ensure your loved one has ample opportunity to connect with friends and family whenever possible.
We coordinate numerous events that foster a sense of community and belonging, as well as opportunities that help strengthen their faith. Still, regular visits from family members and friends can also go a long way in managing feelings of loneliness and isolation.
Medical Treatments for Severe Depression
In some cases, exercise, hobbies, and connections might not be enough to manage symptoms of clinical depression. At this point, it might be a good idea to speak to a doctor regarding your loved one's mental health and how they can treat it.
Therapy and medical treatment can help manage depression, but you may need to work with your loved one and their doctor to determine a strategy that suits their needs best. Some of the most common treatments may include therapy, counseling, and medication.
If your loved one is struggling with Alzheimer's or other forms of dementia, joining our Compass Memory Care community can be a fantastic first step toward enriching your loved one's quality of life and managing symptoms of depression.
Discover the Support We Provide
Your loved one's happiness and well-being are at the center of the care and support we provide. Whether your loved one is looking for a community to connect with or would like some help managing the effects of aging, our staff is by their side to ensure they have everything they need to enjoy the life they lead.
If you're interested in seeing what life can look like at Arcadia at Limerick Pointe, take some time to browse our lifestyle options or get in touch with us today!