How Does Faith Play Into Senior Living Decisions?
When the time comes to transition into a new stage of life, some crucial decisions will come your way. Your loved ones may rely on you to help them choose the right community to settle in. A crucial aspect of these decisions is faith-based and how faith can play a role in senior living decisions.
Let's look at how faith can play into senior living decisions and how to choose the right community for you or your loved one.
Senior Living Decisions & Faith
Faith plays an important role in everyday life, and this is no different for many seniors. Religious faith and values can play an essential role in their identity. Many seniors value the sense of community, support, and fellowship they have grown up around, and when looking for a new community, these remain essential qualities.
Faith and religious values can provide seniors with some purpose and encourage building meaningful experiences and socializing with others. Moving to a new senior living community can be an adjustment, and faith can help seniors center themselves and be comfortable with the change.
When seeking out a faith-based senior living community, some programs can help your loved ones make a decision:
Classes and lectures offer an in-depth study of cultural, historical, and social topics.
Religious services include a Priest in Residence, celebrations, and interfaith prayer.
Facilitate group discussions about current events.
Religious faith and values can keep the body, mind, and spirit sharp and many seniors seek this familiarity when entering a new stage of life.
Seniors may feel a greater sense of joy and peace knowing that their religious beliefs and lifestyle will be respected. They can continue practicing and sharing this faith and trust with others within the community.
Religious faith and values can help seniors come to terms with retirement and settling into a new community. While other seniors may struggle with acclimating to a new community, faith-based communities allow you to practice freely and cherish and honor all members' religious, spiritual, and cultural traditions.
Faith-based communities are welcoming and strive to integrate with the different senior lifestyles available.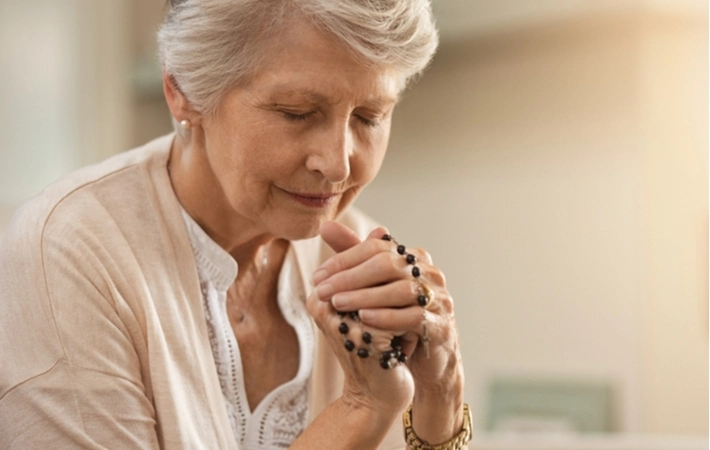 Different Lifestyles
Finding the right type of lifestyle is vital, and based on your or your loved one's needs, your comfort, faith, and spiritual beliefs are of the utmost importance.
Let's look at some of the different senior lifestyles.
Independent Living
Independent living is a senior living lifestyle that tackles tedious tasks like cleaning, laundry, and other activities that can take time away from your other hobbies and interests.
Some factors to keep in mind if you're considering independent living:
Has maintaining your current home become an issue?
How difficult is it to get around in your current community?
How is your health, and would moving to an independent living community benefit you?
Independent living is about maximizing your time and focusing on any new opportunities or hobbies.
Personal Care
Personal care is a lifestyle that takes the need of each resident seriously. Personal care is personalized and maintains a balance between independence and support.
Trained and licensed nurses and certified nurse's aides are available 24/7 to offer support for tasks such as:
Bathing
Dressing
Medication management
Freedom and flexibility combined with customized assistance are essential with personal care.
Memory Care
Memory care is a senior living lifestyle option for when it becomes difficult for your loved ones to live independently. Medical conditions like dementia or Alzheimer's can make it difficult for your loved one to be independent.
Some personalized care services your loved one can expect:
Visiting primary care physicians
Licensed nurses on-site 24/7
Pharmacy services
Wellness checks and nutritional guidance
Memory care provides a lifestyle focused on providing qualified, experienced, and supportive care.
These different lifestyles interconnect with faith-based living, and the adjustment can be made more accessible.
Making the Decision
Senior living decisions are a big deal. These decisions can take time, taking various factors into consideration. Faith-based communities and religious values can help seniors choose a community that will make them feel comfortable and safe.
Contact a professional today to learn more about faith-based communities and how faith is integrated into daily living.