Benefits of Personal Care Homes for Senior Living
Personal care may be right for someone if they need support with daily living. The services and amenities provided with this lifestyle help you or a loved one live independently while getting necessary assistance.
Continue reading to learn more about personal care, including what it is and the benefits of this lifestyle.
What Is Personal Care?
Before you learn the benefits of personal care homes, you must understand what personal care is. Personal care assists with whatever daily activities you need, such as bathing, meal preparation, or other tasks.
Many people complete everyday tasks without realizing these activities become more taxing with age. They're routine tasks people can complete without assistance, but many people find some activities become more difficult with age. Walking up the stairs, folding laundry, and getting ready for the day may leave someone winded.
These tasks are your instrumental and basic activities of daily living (ADLs), the skills you need to manage your needs and live independently. Your basic ADLs include:
Ambulation: Your ability to move from one place to another & walk independently.
Feeding: Your ability to feed yourself without assistance.
Dressing: Your ability to select appropriate clothing & put them on independently.
Personal hygiene: Your ability to care for your hygiene, including bathing, grooming, dental care, nail care, & hair care.
Continence: Your ability to control your bladder & bowel function.
Toileting: Your ability to get to & from the toilet, use it, & clean yourself afterward.
Your instrumental activities of daily living (IADLs) are more complex tasks you need to complete consistently. These activities include shopping, managing finances, meal preparation, managing medications, and housekeeping and home maintenance.
Personal care can be beneficial if someone struggles with ADLs and IADLs. Residents can enjoy living in a community where they can enjoy their independence while knowing they have assistance whenever they need it. Staff is available 24/7 to support their unique needs.
Personal Care or Independent Living?
It can be difficult to know what senior living lifestyle meets you or your loved one's needs, especially when choosing between personal care and independent living.
Independent living is a lifestyle suited for older adults who can live independently but want to focus on a less stressful lifestyle. Managing a home or apartment takes time and energy away from your passions, interests, and hobbies. Independent living lets seniors enjoy everyday life without worrying about the little things.
Think of personal care as a balance between independence and support. Someone may need some help with certain activities, but they can still enjoy life to the fullest.
When Should You Consider Personal Care?
You may not know when it's the right time for senior living, but there are a few signs to watch out for. Consider personal care as an option if you or a loved one struggle with:
Activities of daily living
Worsening medical conditions
Isolation or loneliness
Neglected housekeeping
Poor hygiene
A personal care lifestyle can help with these issues, offering a supportive community that meets each person's unique needs.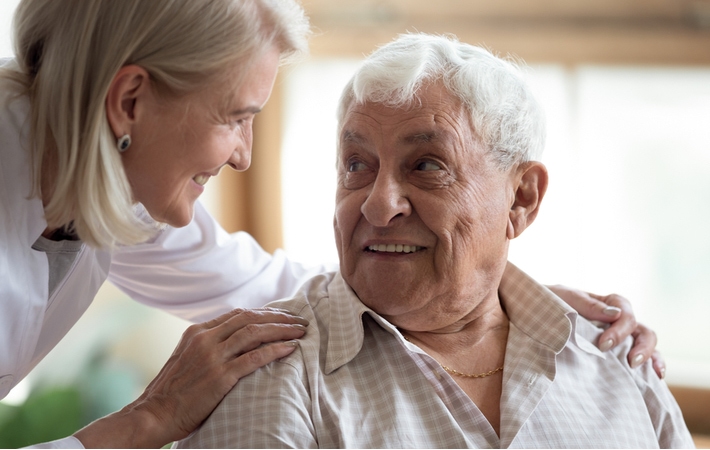 The Benefits of Personal Care Homes
There are several benefits to personal care homes, including:
Personalized Care When You Need It
Personal care provides the daily support residents need to live happy and healthy.
Each resident has a care plan tailored to their unique needs. Some residents may need help dressing and bathing, while others may need help getting around campus. You get the support you need while living independently otherwise.
Live A Healthy Lifestyle
A personal care home helps residents live a healthy lifestyle. The provided services in personal care help meet each resident's physical needs. Residents receive a customized care plan, including medication management and pharmacy services.
Some personal care services include:
Medication management
24/7 available nursing staff
Scheduled physician visits
Customized medical care
Supportive Community
A benefit of living in a personal care home is that you're a part of a supportive community. There's always someone to talk to, whether it's staff or fellow residents. The people around you care about your health and well-being.
Social isolation and loneliness can negatively affect health. Living in a supportive community can help prevent isolation because there is always someone to spend time with.
Beneficial Amenities
Getting yourself involved in different activities can benefit several aspects of life. Research on leisure activities like writing, drawing, and other arts can improve quality of life, cognitive function, memory, and self-esteem. Residents enjoy many activities like this in a personal care community, including:
Lounges for social gatherings
Libraries for reading & learning
Arts & crafts rooms for creative expression
Spaces for walking & social interaction
Movie theaters for leisure & entertainment
Learn More About Personal Care
While reading about personal care can help you understand what this lifestyle provides, visiting a campus can help you see things in person. You can book a tour at your local personal care home to learn more about this lifestyle.
Contact your local community if you're interested in personal care for you or a loved one.