The team at Arcadia at Limerick Pointe understands how overwhelming it can be to choose the correct level of care for your elderly loved one, and we want to help.
Online research provides many options, and it can be challenging to determine the most suitable choice when considering your family member's specific care needs. You may have heard of 2 particular types of facilities:
If you have a family member who needs full-time care, it's vital to understand the difference between these types of facilities before making your decision.
2 Types of Care
There are some distinguishing characteristics to skilled nursing and memory care facilities that may help you determine the best placement for your loved one.
Paying close attention to these differences will help you feel confident that the chosen facility will meet your family member's needs in their new environment, and ensure they're able to enjoy the highest possible quality of life.
The simple difference between a memory care facility and a skilled nursing home is their form of specialized care:
Skilled nursing homes are health care facilities providing short-term and long-term round-the-clock, high-level medical care from licensed health professionals.
Memory care facilities cater specifically to residents with Alzheimer's disease or dementia.
Skilled Nursing
A loved one with comprehensive medical issues requiring 24-hour nursing care could benefit from a skilled nursing home. Skilled nursing can provide high-quality care for a bedridden family member or a family member needing full-time short or long-term nursing care.
Skilled nursing communities are for residents who:
Cannot live independently
Have severe health or mobility issues
Requiring medical surveillance
Require medical supervision
Require assistance with the activities of daily living.
Medical care in a skilled nursing home services may include:
24/7 supervision and care from trained medical professionals
Medication management
Dressings and wound care
Physical therapy
Speech therapy
Occupational therapy
IV therapy
Respiratory therapy
Family members with conditions like Parkinson's disease or respiratory illnesses may require highly specialized forms of care and medical equipment. Long-term stays in skilled nursing facilities ensure proper care by licensed professionals, focused on their total wellbeing.
A skilled nursing facility can also offer a short-term care setting for loved ones recovering from surgery, illness, or injury. Patients receive help with daily tasks like bathing, dressing, and medication management while they rehabilitate.
In addition to medical care, most skilled nursing facilities offer a personalized, friendly, home-like environment with activities catering to their residents and various socializing opportunities.
Services in a skilled nursing home could include:
Meals
Housekeeping
Opportunities for indoor and outdoor exercise
Private or shared accommodations, depending on budget and availability
Activities like crafts, games, puzzles
Social opportunities like book clubs and movie nights
Although skilled nursing homes can offer elderly residents with memory loss support, it's vital to note that staff are not provided the same specialized training for Alzheimer's disease or dementia, such as those received in a memory care facility.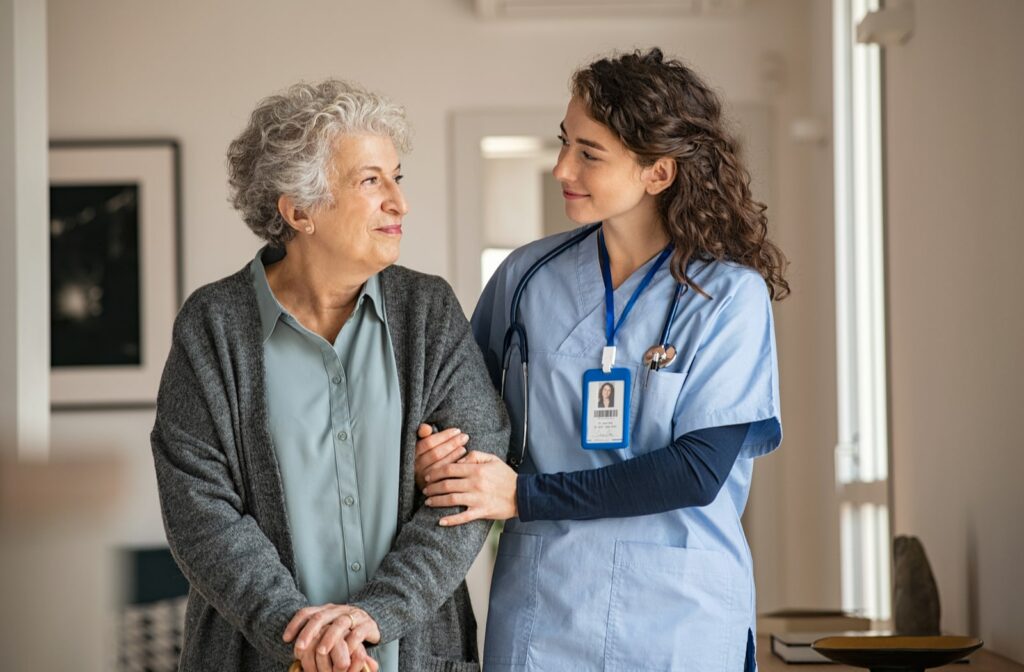 Memory Care
Memory loss occurs as a natural part of the aging process; however, there are more pronounced situations of age-related memory loss, like dementia and Alzheimer's disease.
If you have a loved one with Alzheimer's disease or dementia, they may benefit from the 24-hour specialized care of memory loss provided by a memory care facility.
Memory care is specifically designed to mimic life at home, with specialized supports catered to someone with memory loss.
Staff is trained in specialized areas of memory loss support, helping to provide holistic, compassionate care, and treatment of challenging dementia behaviors, such as:
Agitation
Physical or verbal aggression
Emotional distress
Restlessness
Destructive behaviors
Sleep disturbances
Delusions
Hallucinations
Memory care provides a secure environment to minimize confusion and prevent wandering while enhancing the quality of life for patients with memory loss. Safety features like alarmed exit doors ensure your loved ones stay safe and relaxed in a warm, caring environment.
Meals are often served in a comfortable, family-style setting, and highly-trained, experienced staff members assist residents with their activities of daily living (ADLs).
The programs offered in a memory care facility are personalized with a specific focus on memory enhancement and cognitive abilities. Programs are thoroughly researched, providing life-enriching daily activities that help ensure a high quality of life and comfort for residents.
Programs offered in a memory care facility may include:
Puzzles, crafts, and games: Physical and mental stimulation customized to each resident's abilities.
Music therapy: Music and memories are often intrinsically linked, and listening to familiar music can help improve cognitive skills and lower stress levels.
Art therapy: A creative outlet, regardless of skill or cognitive ability.
Most memory care facilities have unique design features that help promote comfort and relaxation, reducing confusion for residents with memory loss.
Design features that enhance feelings of personal wellbeing for patients with memory loss include:
Brightly colored walls & floors: Help support the patient's visual limitations, drawing their eyes to furnishings and pinpointed areas of each room.
Plenty of natural light: Natural light has a calming effect, and helps transition from day into night.
Community spaces: Encouraging social interactions and promoting togetherness.
A Proper Balance
You can rest easy knowing that your loved one is appropriately cared for if placed in a suitable facility. Memory care facilities and nursing homes both provide 24-hour care, supervision, meals, and support with the activities of daily living in 2 different, specialized environments.
Your family members who require significant medical care can benefit from a skilled nursing facility, and loved ones with Alzheimer's disease or dementia may thrive in a supportive memory care environment.
Remember to research your chosen facility carefully, look closely at the available care options, and seek help from other family members, friends, or your family doctors.
Contact our friendly staff at Arcadia at Limerick Pointe if you want more information about the differences between skilled nursing and memory care. We're always available to offer guidance and support, and are passionate about senior living!