A Little Assistance Encourages Independence
Personal care homes are often compared with nursing homes, but these two types of communities are very different. Personal care homes help older adults maintain their independence while assisting with challenging tasks.
Nursing home residents often require specialized 24-hour care, whereas adults living in personal care communities may only need a small amount of extra help in their day-to-day lives.
Personal care homes help our loved ones in the activities of daily living (ADLs) like toileting, dressing or bathing, while providing a community-like setting for socializing with other residents, friends, and family members.
A Community of Caring
Many personal care homes provide in-room care, housekeeping, and 24-hour emergency services in a safe, supervised environment. Most residents have their own rooms, suites, or apartments with full access to various community areas throughout the facility.
Depending on the community, there may be a restaurant available or several dining options on-site.
Community members are encouraged to be independent and make choices based on personal preferences. Extra help is personalized based on each individual's level of care and needs.
Individualized Services
Residents in a personal care home can take advantage of many services catered to their needs. Depending on the community, services may include:
Laundry & linen changes
Meals & snacks
Housekeeping
Personal care services
Salons
Assistance with medications
A Healthy Social Life
It's easy for the older adults in our lives to feel isolated, and frequent social activities are beneficial to mental and physical health. A high-quality personal care home will provide opportunities for residents to participate in engaging events, find friends with similar interests, and focus on their favorite hobbies.
Personal care communities may offer a wide variety of outings, events, and activities that encourage our loved ones to get socializing, such as:
Pub nights
Wine tastings
Movie nights
Board games
Book clubs
Chapels
Libraries
Meetings
Outings to local destinations
Concerts
Plays
Exercise and wellness programs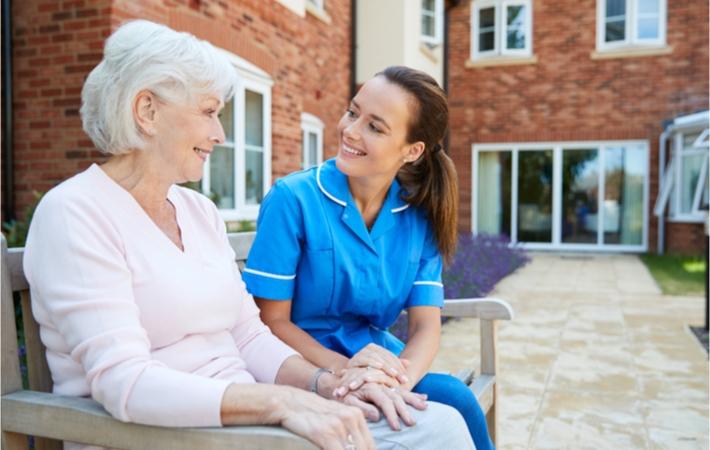 Is it Time to Consider Personal Care?
If your loved one is struggling with the activities of daily living (ADLs), a personal care community may offer them a better quality of life. Your family member may be ready for a move to personal care if they need help with:
Mobility: If your loved one has difficulty with stairs, moving items in and out of their cupboards, or struggles with getting into the shower or bathtub, they may benefit from a living space designed for someone with reduced mobility.
Managing medications: Dealing with prescription medications can be confusing, and it's easy to take too little, too much, skip, or miss a dose. Your loved one may require someone to help them manage their medications.
Nutrition: Your loved one is consistently eating the same foods, opting for easy non-nutritious options, or skipping meals altogether, and you're concerned their health may be at risk from lack of nutrition.
Personal hygiene: You've noticed your loved one has difficulties with toileting, showering, or dressing and feel they could benefit from additional assistance.
Housework: Are day-to-day tasks like cleaning, dishes, laundry, home repairs, and yard work neglected? Are you concerned for the health and safety of your loved one?
Socializing: Would your loved one benefit from frequent opportunities to socialize? Are they neglecting their favorite activities and hobbies?
If you've noticed that your loved one could use additional assistance with these daily tasks, it may be time to consider a personal care community.
The Right Solution
There's never a defining moment or perfect time to make the transition to personal care, and discovering that your family member needs help can be a challenging experience.
Having a conversation with your loved one and discussing care options is essential to improving their current living situation; their input is valuable to the decision-making process.
Choosing to move into a personal care home is not easy, and it may take some time to select a suitable facility. You'll want to look into the types of care available, what level of care is currently required, and what may be needed in the future.
Remember that a personal care community should prioritize your loved one's physical and mental wellbeing, and strive to enhance their quality of life.
Visit Arcadia at Limerick Pointe
At Arcadia at Limerick Pointe, we offer individualized assistance with ADLs and a wide range of services catering to each community member's needs, while encouraging residents to live on their own terms with freedom and flexibility.
Independence is strongly encouraged, but our compassionate and friendly team is always available to help and provide support. On-site professional nursing staff is available 24/7, providing high-quality, personalized care to each resident's needs.
We'll handle the chores, giving your loved ones time to enjoy their daily lives and all the amenities of our personal care neighborhood, like:
Distinctive dining with meals served in a warm, friendly restaurant
24-hour "anytime" café with snacks and beverages
Lounge featuring a welcoming, pub-like atmosphere for social hours and casual gatherings
Full-service salon
Chapel
Media room, computer lab, and library
Gorgeous common spaces, sun-lit atriums, and comfortable outdoor lounges
Scheduled group transportation, private transportation within a 5-mile radius
Coordinated trips to popular local destinations
If you have questions or would like further information about the benefits of a personal care community, contact Arcadia at Limerick Pointe today. We can't wait to meet you!