What Is Respite Care for Dementia?
A caregiver is an adult who regularly helps a spouse or family member who is elderly, has a chronic or progressive disorder, or is disabled. People with dementia require a different level of care than someone sick or disabled.
It can leave family caregivers providing long hours of physically demanding care with high levels of caregiver burden. Respite care offered in senior living communities for loved ones with dementia gives caregivers a break and prevents caregiver burnout.
Let's look at dementia and why respite care is sometimes needed.
What is Dementia?
Dementia is a mental disorder that affects brain activity and thus daily life, causing impairment in memory, thinking, language, and behavioral skills. Dementia is not a normal part of aging but becomes more common as you age.
The changes in the brain cause irreversible damage and loss of neurons and deprive it of its ability to process information. There is no cure for dementia which ranges from mild to severe, with complete dependence on others.
Symptoms of Dementia
Dementia-related behavior accompanying impairment in cognitive function includes changes in mood, personality, and loss of emotional control. Symptoms vary from person to person and stage and determine the level of respite care needed:
Early-stage dementia: Occurs gradually with symptoms including forgetfulness, getting lost, and losing perception of time.
Middle stage dementia: With progression, symptoms become more noticeable, such as forgetting recent events and names, confusion, difficulty communicating, wandering, repeating questions, and loss of personal hygiene habits.
Late-stage dementia: There is total dependence on others with well-defined symptoms including memory loss, losing balance, inability to walk, lack of awareness, difficulty communicating, reading, and writing, and aggression.
Respite Care and Dementia
Respite care is a service offering a safe environment to families with loved ones suffering from dementia. It gives the family and caregivers time off from caring for their loved ones to rest and do other things without feeling guilty.
Respite care is available for all stages of dementia and especially when loved ones can't take care of themselves or require constant supervision. Dementia takes an emotional, physical, and financial toll on families and caregivers to a point where they need support. 40% of caregivers have emotional stress, 20% have financial problems, and around 20% experience physical strain.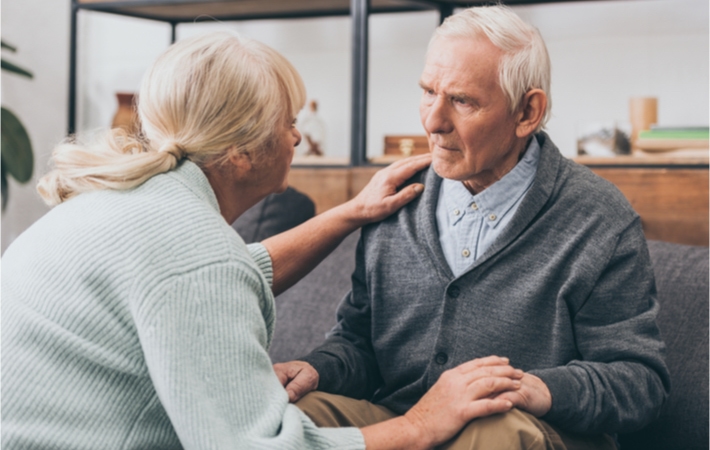 The Benefits of Respite Care
Respite care benefits caregivers, their families, and loved ones suffering from dementia. It's crucial to acknowledge that respite care can be a part of the caregiving process for everyone involved.
There's no doubt that caregivers can feel guilt, worry, and inadequacy when considering respite care for loved ones with dementia. They may not see themselves as caregivers and only as a spouse, daughter, son, or sibling. But when more skilled care is needed as dementia progresses, respite care can offer help.
Benefits for Caregivers
Provide an opportunity to relax, rest and spend time with friends and family.
Time to restore balance in your life.
Positive impact on caregiver mental and physical well-being.
More time to run errands and catch up with appointments.
Less stress and more peace of mind knowing senior loved ones are cared for until they return home.
You may learn how to better care for them with expert advice.
Frequent breaks with respite care can lead to long-term help from caregivers and keep loved ones at home for longer.
Benefits for Seniors with Dementia
Respite care offers a safe and supportive environment for seniors with dementia.
Respite care offers individuals personalized care suited to their needs and is available with 24/7 on-site care.
Respite care provides a comfortable and family home-like setting.
Respite care offers planned activities and programs to promote socialization and interaction with others.
Respite care caters to both overnight and lengthier stays. Regular stays can prevent hesitation and better adjustments in respite care in seniors with dementia.
Support When You Need It
Not every caregiver can meet the needs of senior loved ones with dementia. Thus, the call for respite care is increasing as the population ages as a desired and needed form of assistance.
It improves the quality of life and well-being of caregivers and their loved ones. Arcadia at Limerick Pointe offers seniors extra care and caregivers the support and break they need.
Contact us for more information on our respite care program.