Religion and spirituality play a significant role in many people's lives. As people age, it can serve a fundamental purpose. It can positively impact a senior's quality of life by bringing meaning to everyday tasks and supporting them in facing life's challenges.
Many senior living communities have services and amenities to support spirituality and religion for this reason.
Keep reading to learn about the 10 ways religion ad spirituality can benefit seniors.
Religion vs. Spirituality
Religion and spirituality are similar concepts but differ slightly. However, both offer benefits to seniors and can increase their quality of life.
What is Religion?
Religion is a faith system and is often defined as a public and outward form of expression by the National Institute of Health (NIH). Depending on which religion is practiced, there are certain beliefs, practices and rules associated with it.
Religion is typically more organized and community-based.
What is Spirituality?
Unlike religion, spirituality is more generalized than religion. Although there are spiritual communities, it is often regarded as something more individualized and personal. Spirituality isn't necessarily the following of a particular practice or set of beliefs but is more based on a general sense of purpose and meaning beyond human life.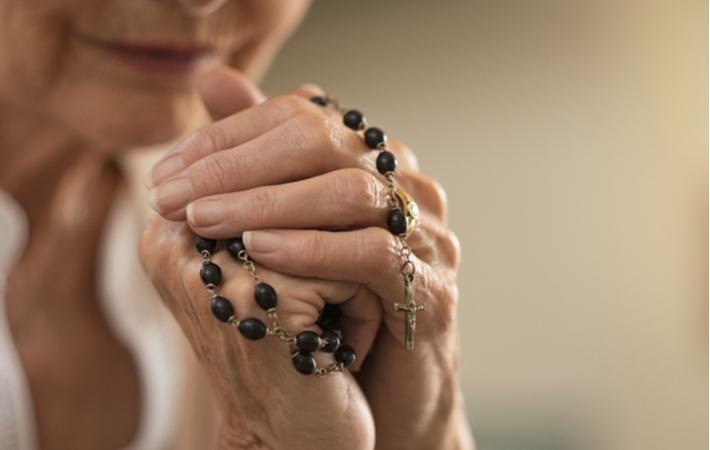 The Benefits of Religion & Spirituality
A study has shown that religion and spirituality can have many benefits for seniors. We've grouped these benefits into three main categories to show how faith impacts senior's mental, physical and social health.
Mental Health
Research suggests that religion can help seniors create a hopeful attitude about life and illness. This lowers the risk of developing depression and anxiety and can reduce suicide rates, alcoholism and drug use.
Religion helps seniors achieve this by:
Giving senior's a better ability to cope with illness and health problems
Bringing a sense of meaning and purpose to life
Encouraging meditation and self-reflection
Social Health
A strong sense of community is often a focus of religious or spiritual groups and can foster the development of community and support networks. Increased social contact for seniors can:
Introduce seniors to new people
Increase the likelihood that seniors will comply with treatment
Decrease the chance that seniors will neglect themselves
Offer a more extensive support system
Reduce loneliness
Physical Health
In older adults, being a part of a religious community has been linked to a better ability to maintain physical health because:
Some religious groups promote health-enhancing behaviours such as limiting or avoiding drinking and smoking
It can increase motivation to continue recovery
How Can Caregivers Help?
Caregivers play an essential role in the religious and spiritual lives of the seniors they serve. Caregivers can help seniors by:
Asking seniors about their religious beliefs and practices
Talking to seniors about how religion can impact their mental, physical and social health
Inquiring about religious issues under the correct circumstances
Talking about the religious programs offered in their communities
When appropriate, taking a forward approach to religion and spirituality shows seniors that their health care providers are willing to discuss such topics. This can allow caregivers to learn:
If spiritual beliefs are an important part of their life
How these beliefs influence the way they take care of themselves
How they would like their community to handle their spiritual needs
Religion in Senior Communities
According to Seniorliving.org, religion plays a significant role in senior living communities. A poll by the Pew Research Center highlighted the following statistics regarding religion and spirituality in senior communities:
84% of people aged 60-69 consider themselves Christians
Faith tends to increase as people age
53% of people 65 and older attend church at least once a week
43% of people aged 65 and older read religious material daily
69% of people aged 65 and older say religion is an integral part of their life
The Takeaway
Religion and spirituality can have many positive impacts on ageing adults. Multiple studies, including those done by the NIH and Cambridge University, show that religion can affect how seniors move through their lives physically, mentally and socially.
If you have questions or concerns about how senior living communities can foster religion and spirituality, please contact us today! Our team is always ready and willing to help you with whatever you need.